Come for the glory of Queen's legacy, sing along to their greatest hits – but expect no more. A review of the latest biopic. 
Title Bohemian Rhapsody
Starring Rami Malek, Lucy Boynton, Gwilym Lee, Ben Hardy, Joseph Mazzello
Director Bryan Singer; (uncredited) Dexter Fletcher
Plot
In the early 1970's, design student and Heathrow worker Farrokh Bulsara (Rami Malek) joins an aspiring band where he meets Brian May (Lee) and Roger Taylor (Hardy) in London. By 1971, Bulsara has become 'Freddie Mercury' and their band adds bassist John Deacon (Mazzello) in which the band transforms into the legendary "Queen", soon following their steps to success, ending with their 1985 Live Aid performance and also chronicling Freddie's struggle with his sexuality resulting in the breakup of his relationship with long-time companion Mary Austin (Boynton) and his eventual diagnosis with HIV/AIDS.
Review
The eventfulness of a biopic celebrating the career of Queen, one of the world's greatest rock bands, seemed inevitable especially with the trend of modern films about musicians such as Get On Up (James Brown), Love & Mercy (Brian Wilson) and the upcoming Elton John biopic Rocketman also directed by Dexter Fletcher, but the main question is whether the film honours its main character Freddie Mercury. The answer is yes, but also no.
Its messy production made headlines when director Bryan Singer walked out during the shooting of the film, leaving a remaining third of the film unfinished. Singer was eventually fired, whilst Dexter Fletcher who originally signed on to direct the picture, stepped in to pick up the remaining pieces. The material is respectable, but the trouble behind the screen really shows in the finished product.
The screenplay written by The Theory of Everything's Anthony McCarten is often funny particularly in a scene when Queen unveils Bohemian Rhapsody to EMI exec. Ray Foster (Mike Myers is unrecognisable in a brief cameo), but the story reimagined by him and Peter Morgan seems to miss out massive moments of the band's time. A major portion of the film is filled up with montages of the band performing at gigs, but it doesn't say anything else about Queen and the feel of the film starts to become more of a tribute than a fully realised biopic. It also doesn't give an insight to who exactly Freddie was, the man behind the genius of Queen's greatest hits and with a long running time of 134 minutes the film never uses its time wisely.
It's not all doom and gloom though, the film's true stroke of brilliance is its casting particularly in the case of Rami Malek as Freddie Mercury. Malek, best known for his Emmy winning performance in Mr Robot, does absolute wonders here as the singer. Your eye is drawn to him every second, it's incredible to see the actor completely transform himself both physically with the prosthetic teeth and the wigs he had to wear (kudos to the makeup) and the mannerisms, and also vocally by matching Freddie's English accented purr miles away from Malek's native LA tones. Not to mention, the costumes recreating the singer's finest moments onstage are second-to-none.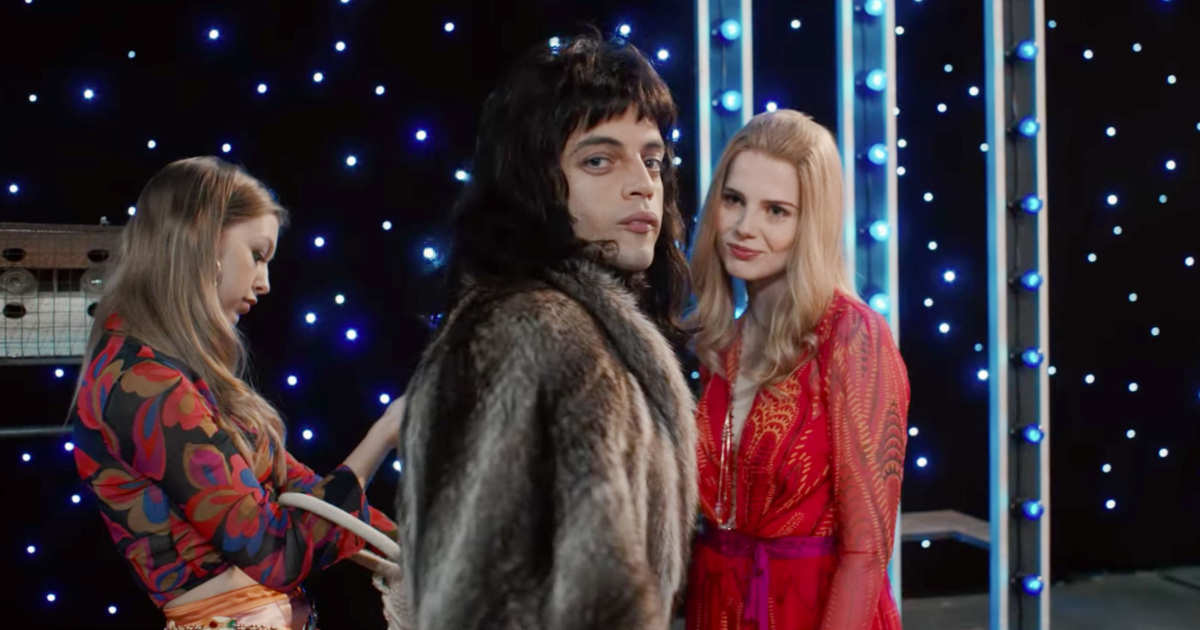 The supporting cast also deserve a mention such as Gwilym Lee as Brian May, a dead ringer for the guitarist and Lucy Boynton provides a much needed shoulder to cry on as Mary Austin, often acting as a way in to Freddie's inner vulnerability, although her role as Austin does border on 'fag hag' territory when it could've been so much more as she played a significant role in Mercury's early life. It was disappointing however to see Aaron McCusker's role as Mercury's boyfriend Jim Hutton that was vastly underdeveloped, coming off as a last minute addition.
Apart from the moments of humour and a great starting step-up, the film's finest moment is the final 20 minutes that recreates Queen's celebrated Live Aid set in 1985, utilising Mercury's original vocals from the performance. The film takes you directly into Wembley Stadium and you feel like you are stood seeing the man himself singing his heart out. If there was an award for Scene of the Year, this is one of them. You'd have to be made of stone to not shed a tear for the music that many know and love, both in 1985 and today. Goosebumps.
Verdict
Bohemian Rhapsody is both honourable and underwhelming, despite its best of intentions especially when the film starts to take flight in its funnier moments; the film's final edit is messy, overly-aware of the band's fame and thus playing upon this mind-set, and only looking great upon face value rather than breaking down just who exactly Freddie Mercury was.