The HBO rom-com with more profanity and real talk, strap in for mild spoilers.
The BBC hosts the HBO romantic comedy anthology series Love Life created by Sam Boyd, which stars Anna Kendrick as the unfortunately named protagonist Darby Carter, a seemingly hapless girl wanting to find love, whose childhood has been defined by the gap created by her parents' bitter divorce and eventual new marriages resulting in a muddled adulthood of self loathing. Narrated by Lesley Manville, its premise seems simple and for the most part, it is.
Despite how solid the pilot episode is, perhaps what's surprising is how the next several remaining episodes feel lackluster often relying heavily on the quirky and likeable charms of its lead Kendrick to do most of the heavy lifting, particularly in the head-scratching episode Danny Two Phones, when she becomes the personality she despises. The actress is up to the task, even when her character makes questionable decision after another, without the fleshed-out context as to why.
Despite some of its predictable missteps, the plotting of a fateful night in the sixth episode becomes very frustratingly obvious, there is a lot to like as well such as the wonderful connection Kendrick's Darby has with one of her loves Augie (a charming Jin Ha) in their scenes together, Zoë Chao's Sara becomes a lovable and heartbreaking hot mess, and the dysfunctional mother-daughter dynamic of Darby and Claudia (Hope Davis stretches out the mom role than what she's given) is probably the most realistic part of the series. The 'love' isn't always just romantic though, it is represented in many forms; be it love for her career, her family, the close friendships Darby possesses with Sara or Lola (Nadia Quinn) and even Darby making the decision to go to therapy as self-care.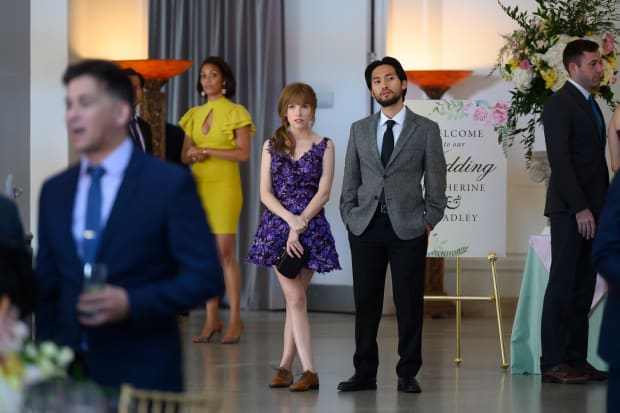 In a series that seems to promise more with its tongue-in-cheek narration by Manville, there's not an awful lot under the surface apart from the occasional solid joke, which make up for the tonally uneven dramatic twists and turns, otherwise stay for a fun and entertaining ride, but nothing more.
Now available to stream on BBC iPlayer in the UK.