The first of two standalone episodes, in the opener Trouble Don't Always Last filmed during the first lockdown. Possible spoilers ahead.
In a climate of many shows being cancelled due to production issues caused by the COVID-19 pandemic, Euphoria's Season 2 production was shut down entirely. In the adaptiveness of creator Sam Levinson, the writer-director came up with the concept of two 'bottle' episodes, one focused on Rue and the other on Jules.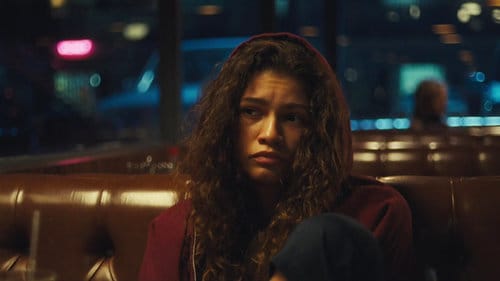 Following on from its musical finish in Season 1, the series picks up from Rue's (Zendaya) relapse after Jules leaves town and their relationship behind for city life. Rue is seen at first living with Jules (Hunter Schaffer cameos), only to find it is her in a drug induced fantasy, then proceeds to return to pancakes on Christmas Eve with her AA sponsor Ali (Colman Domingo). Now set entirely in the diner, the two discuss what her limited options are; get clean or continue in her relapse which will undoubtedly send her into a deep dark path.
Most common to sitcoms, the bottle episode is rarely used in drama series and especially in the vein like this one. In a show that relies heavily on the combination of slick camera directions, impressive lighting and its hip-hop influenced score, this is perhaps Euphoria's most un-Euphoria episode. Yet this is the power to its satisfying success, in which it strips down from its usual key asethetics.
Without the usual lingering narration, we're forced to face Rue and Ali head on as they discuss on addiction, fake corporate solidarity for Black Lives Matter, their relationships with loved ones, and a generational gap about their views on the political state of America. Levinson's writing is truly special and inspired here, his characterisation of Ali is wonderfully layered and considered. Levinson has an ability to understand exactly who his characters are and how they navigate their lives. And yet sometimes, the physical expressions of his actors say volumes more than a grand monologue could. The commentary is grounded and naturalistic, it is the least showy moment of the show and the most authentic.
Zendaya and Colman Domingo are entirely in sync here, their performances perfectly harmonious and on-the-same-page in keeping with the tone, which is a credit to the direction by Levinson. Zendaya somehow unveils another layer of vulnerability, as Rue sinks further into the diner seat and symbolically within herself with the line, "I just don't really plan on being here that long". Domingo is masterful in his delivery, making every line feel so effortless, as Ali he lives and breathes the experiences of a black man in America past and present who has fought and succumbed to addiction, lost the relationships of his loved ones by eventually becoming like his father, and found strength in Islam. The result is absolutely breathtaking.
On the journey home, the camera focuses on a long, drawn out wide shot of Rue travelling back with Ali, it almost seems dreamlike at first, before it slowly zooms closer and closer until we have no choice to face our protagonist much like she will in Season 2, a taster of what is yet to come from Euphoria and a grounded step that the series should continue to take.